Well, that is a BORING title, isn't it!  It is now mid-July and I am about 1 month post Eagleman 70.3 and have been lucky enough to race 2x since Eagleman.  I wanted to do some fun, local races before I started to do the build for Hawaii.  One of the best things about short course training is you get to race all the time.  With the Ironman, I actually have to train A LOT….umph.
The weekend after Eagleman was a local sprint that is one of my favs.  I am good friends with the RD and it is in my back yard and in the lake where co-run the open water swim events every week.  I was not all that excited about racing a Sprint 6 days post Eagleman — and on ice cream, hamburgers and fries all week — but, it turned out OK.
I raced Elite (I love it when local races have a separate wave, just so much safer!) and was the first person (male or female) out of the water – that was fun.  I just worked so hard on not letting any guy pass me, that lasted…oh, not even 1 mile!  But, I felt like ass on the bike.  And, this course is out and back so I got to look at my competition as I turned around.  Not always the most exciting thing to do when you are flat flat flat, but I was able to rally and get into T2 in the lead.  Ironically, my average watts were lower at the Sprint than they were at my 1/2 IM.  Got onto the run and felt good, but did the STUPIDEST thing ever.  I took a wrong turn and ended up running over 90″ longer.  All of a sudden the ring road I was on re-joined the main race and there were the girls coming – SHIT!   I really did not want to have to dig deep, but I had to dig to put a gap on them again. (My instructions were:  "do the least amount of work you have to to win.")  Silly me.  I can do this course in my sleep…!!  Anyway, I managed to keep my lead and win overall and with a faster time than last year even with my detour!
After my local sprint, I just put in some time training.  It was time to start to pick things up a notch and get reunited with some longer riding – nothing too long now – but some quality and heat.  Jerome and I even made a trip on the 4th of July morning to ride the IM Wisconsin course.  No matter how many times I ride that course (and it is A LOT), it kicks my ass every time.
This past weekend was one of those insane weekends with kid's activities.  I was watching my niece Friday /sleepover and then camp pick up Saturday, One Direction concert with Morgan on Saturday (thanks to my sister who helped me out a TON – best.sister.ever)…I so badly wanted to race this past weekend.  I had 2 options with Evergreen Lake 2 hours away on Saturday and a local race 20 minutes away on Sunday.  Neither was perfect….and I was not going to race.  But, I just could NOT get it out of my mind….and my gut was telling me to race before I really get too deep in my Hawaii training.  So, I decided to just "wing it" on Sunday.  I would not get too much sleep the night before and I would jump into the local OLY race.  I also wanted to race because I had a large group of friends and athletes racing and it was a great time to be with everyone socially.
I got home from the 1Direction concert after 12am and was up by 4:30am, so it stung bad…but you know what?  Except for a higher HR I could feel – even in the swim – I was OK.  I was not sharp, but I was OK.  The water was hotter than a$$ at definitely over 78F degrees, but *of course* the RD said it was 78F and let athletes wear wetsuits.  UGH…..so I melted in my wetsuit and had to manage not over-heating AND not losing sight of Mary Bradbury who is a great swimmer.  I knew if I could keep that gap under 90″ I would be in a good position.  It is fun to actually have someone in front of me in the swim – I am always used to being chased.  SO fun for me to chase on Sunday.  I ended up catching Mary around mile 8-9 on the bike and then just held there and ate, drank and then passed Mary.  We came into T2 together and then I took some extra time in T2 because it was HOT and I needed to get my HR down a bit….so I did that and then passed Mary and ran steady to win the race overall.
FUN times!  I love racing locally & never take for granted a win.  I was coming down the finishing chute and said, "enjoy…enjoy this…"  I take nothing for granted anymore.
Here is a picture that Scott (Mary's husband) took of me racing.  Look at those blue skies (another thing I do not take for granted living here!):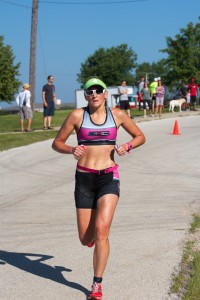 And, now I am done racing for a bit.  I am doing Pigman 1/2 IM in the middle of Iowa in mid-August…I was trying to find a local race that is as much like Kona as possible.  Pigman is notoriously hot, windy and similar to Kona.  It is actually where I did my 1st Half Ironman back in the day.  I am looking forward to racing Pigman again – hope it is not wetsuit legal and as hot as a$$.
With that being said, I decided NOT to race USAT SC Nationals.  I really wanted to and really REALLY like that OLY distance (and it is in Milwaukee – a great course for me), but I just cannot do it all.  Well.  So, I will focus on long course (dumba$$) and do Pigman and then Kona.
I am heading off to Tucson on Sunday.  The twins are at their annual Summer Camp get away with their cousins and since I can work anywhere – I am going to head to more heat and some quiet time down in Tucson for next week.  Looking forward to some major heat, hills and a break in my daily routine here at home!