I am so glad I went down to Muncie 70.3 and raced.  I cannot believe I have never done this race and it is only 4 hours from me.  It falls at a weird time of the summer with my kid's activities & camps – and it is usually 100F degrees in the shade…But, this year I really wanted to race a 70.3 in mid-season and Muncie scared me a little bit (which I need).
Matt Peterson & Jenny Hayes, two friends and athletes that I work and I with stayed with Matt's parents who live about 45 minutes from Muncie.  I was so glad I had the opportunity to stay with them.  They were SO accommodating, super supportive and hospitable.   It was so relaxing and set us all up for a great race day.  Here is Jenny with Matt and Matt's dad.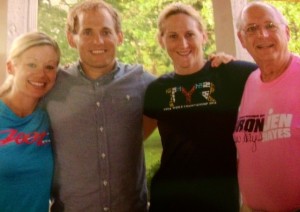 Race day:
It was a good weather day in Muncie.  For once it was not 100F or scorching.  We got a gift and it was upper 70s….very humid, but not oppressive.  I registered for this race late, so I was not racked with the girls in my age group and that was FINE with me.  I had no idea who was there as I never looked at the start list.  I wanted to just fly in, race hard and see where the cards land.  I was super excited to race and woke up on race morning before my 4am alarm SO excited to race!
Swim:
Unfortunately, the water was wetsuit legal.  Really, it was so hot I almost ripped my wetsuit off in the lake.  Honestly, it does not matter to me if we wear a wetsuit or not.  I just want the swim to be hard and aggressive and fair.  The wetsuit surely makes it 100% easier and I can just drag my legs thru the water so I always feel so much more fresh on the bike after  a wetsuit legal swim.
My goal in the swim was to come out of the water in 1st.  Didn't care what time that was.  I lined up just to the left of the start buoy – picked my line of sight and when the gun went off I went out HARD.  200-400 m as hard as I could swim (well, within reason) and we still had clear water until we caught the other waves.  I wanted some feet so I could chill and draft, but I was solo.  No one went with me.  So, I relaxed a little bit and keep swimming strong.  I felt SO good – fluid, light and feeling like I was not putting out a lot of effort.  Then, I got REALLY hot.  I had to grab my wetsuit at my neck every couple of minutes to put some of the water into my wetsuit so I would not over-heat.  And, then I purposely slowed down even more – super easy.  I kept it chill to keep my core body temp under control.  If I had to go with another swimmer, I would or could, but I just held my position and got the hell out of the hot tub.  I was out in 30 minutes and did not see anyone behind me – I ran like hell into T 2.
BIKE:
I was having one of those days where it was all coming together.  One of those race days that are almost magical.  AND when and how these happen, we never know 100% why.  But, when they happen, you go with it and capitalize on it…and know you can take some risks!
I loved this bike course.  Sure, some of the road conditions are really crappy.  AND they changed the bike course so there were 40 miles OF TWO loops with 2000 riders on it.  AND my Age group was in the 2nd to last wave…so the bike course was a HOT MESS.
I got out onto the bike and knew I was leading my AG.  I rode hard but smart.  By the time I hit 50 minutes on the bike I had gone through 2 bottles on my bike alone.  I had to drink a ton to ensure that swim did not catch up with me later in the day as it got hotter.  We had some cloud cover on the bike and I knew that was my "get out of jail" pass to take some risks and push this course harder than I could if it was super hot.
At mile 15 the 2nd place girl went by me.  Ok!  Time to race – I kept my legal distance but kept her in my sights.  She was riding very well.
Around mile 30, I heard the Marshalls driving up.  I was passing a ton of riders – and this is tricky.  Some of the riders were riding 3-4 abreast AND I had no room to pass.  AND if I did pass a man, he would re-pass me and that did NOT help the situation at all.  I was riding as clean as I could – we all were.  I did not see any major drafting out there (I am sure there was some though) on a course that is silly for 2000 athletes.
Then, BAM….the Marsall flashed his RED card at me.  Then, drove up and did the same to others.  Then, others…it was really the silly.  I even said to him, "WHAT do you want me to do when I don't have 'clear line of sight!!?'"
As an age grouper, we do not have "clear line of sight" – this  means you can ride to the LEFT of the athletes (think more middle of the road) and go by everyone faster & NOT get called for BLOCKING.  PROS have this.  BUT I was doing this but then getting over to my right as quickly as I could.  I was in and out of people all day.  ANYWAY, I got a red card for this.  AND because this was my 1st penalty ever, I did not remember (remember I am racing and not thinking clearly) what a RED card meant.  I just had to report to the penalty tent and stand down for FOUR minutes.  I thought I was being DQd.
TO SAY I WAS Pissed would be an understatement.  I went through the initial PISSED OFF emotion & then the "NO way I can have a good race now – FOUR MINUTES is a lifetime!"  I thought about stopping and saving myself for another race the next weekend.  SILLY things that you think about.  THEN about 2 minutes later I re-grouped, put my head down and used that set back to ride even harder.
I will show HIM (aggressive, I know b/c "HE" doesn't care)…..!   About 20 miles later I got to the penalty tent (it was packed) and I started my FOUR minutes – Tick tock tick tock…..I ate, drank and peed while standing there.  I refused to look at anyone passing for fear I would see 10 girls in my AG pass while I stand there and pick my ass!  AFTER 4:23 (that is the total time I was idle) I took off.  AND goodness did I ride hard.  I knew I was taking a gamble but I was going to kill myself to re-gain my lead OR die trying.  I had nothing to lose now.
I averaged close to my Olympic watts on the miles after my penalty.  AND my ride was 22.8 mph on the way home, which was not flat like the loops.  Again, I was taking a gamble.  I came off the bike 3rd in my AG and was on a mission to go and find these girls.Bike time was 2:34 with penalty.  2:29:xx actual ride time.
RUN:
I FELT amazing.  Another "Oh my gosh I feel amazing!"….There are just not too many long races where you feel unstoppable – IN YOUR WHOLE season or seasons – but I was feeling like that so I went with it.  I was confident in my fitness and preparation and knew I could run hard and be fine.  And, my head was in the game.  I had fought the vomit coming up on the bike several times on the bike – and am feeling the same thing on the run – but I was in control of this – so was just over/under that magical red line.  It is a slippery line, but I was loving it and having fun.
The run at Muncie is rolling.  It is a hard run and open and in between corn fields with NO movement in the air – humid and suffocating.  I had my salt, gels and flask to drink.  I took ice at every aide station.
Then, it started to happen.  I see 2nd place up the road and she is not looking good.  It is like the switch – that was already flipped to crazy – went DEEPER into the crazy pain cave and went after her.  I passed her hard and went to find #1.  I am at mile 5 now, so it is all fun and games thus far.
I get to the turn around at 6.5 miles and I see her coming the other way.  She has at least 2 minutes on me.  THAT is a lot of time for a 10k…..but she did not look that good.  And, that is all I needed – a glimmer of hope that I was running faster than her.  I counted her foot strikes & it was low – she was suffering more than me.  AH!  I will get her.
I dug deeper – the hills coming home were brutally hard…now I am at mile 8, where in a 1/2 IM you are really just wanting to vomit or die.  But, I wanted to win more.  I went to Muncie to win or kill myself trying.  I had almost given up.  I had almost resigned to 2nd place because "that is good enough – I did have a 4 min penalty after all" that is the shit that goes on in your head when your mind does not want to suffer anymore.
AND that is when you control what you can and forget the rest.  I AM in control of my mind and that mind controls my body.  SO once I told my legs and lungs to shut up, I picked up my cadence and took pop at every aide station (suffering now) and went to a very dark place.  Honestly, I may have been foaming at the mouth.  I could not talk – I just grunted at anyone that said HI.
At mile 9-10 I see her and she is the only thing between me and my goal.  AND today is the day to make this happen – I still felt awesome (all things considered) and I had other gears on that run course still, I was not maxxed out quite yet.  I had no idea what paces I was running – I did not have a watch.  I mean, who cares – as long as I am in the lead, it doesn't matter.
I came up on her shoulder, drafted on her for about 1 minute and listened to her breathing.  IF she was not breathing I would have to run with her to the finish line (UGH).  IF she was suffering, I would go past her so hard so could not go with me.  It ended up being the latter.  My fast at this point was probably not that fast really, but I felt it BIG TIME.
I surged (I did say something nice to her) and went by her right up a hill.  I continued to put time on her and was never so happy (always) to see the finish line.  I was a little sad this race was over though because I know that races where you feel THIS good are rare and happen so rarely you want to bottle it all up.   I felt almost unstoppable.
I ran hard through the finish line and was DONE.  I wanted to vomit, but instead I had this huge sense of relief and was like: " YES!!!!!!!!!!!!!!!!!!"  Complete satisfaction.  I was SO happy.  That is why I race – for that competition and to bring out the best in myself and see where that best leads me.
I ended up 1st AG/1st Master, 4:50 (that includes the 4 minute+ penalty).
And the first text I saw post race was Elizabeth's –> "You are the grittiest person I know."
I thought it was "prettiest" at first…and I was like, "she is losing her mind!"  – (when in fact, I was!).
I stayed for Awards because Amanda W (2nd AG/2nd OA), Jacqui G (2nd AG/4th OA), Jenny Hayes, Ali R (4th AG) did so well… and I got to catch up with Beth Shutt who was 3rd PRO  (she has a fun pic of us on her blog –  I don't have it b/c it is on her phone)!   I also took the Worlds 70.3 slot.  I did not take it at Eagleman, mainly because it is IM WI weekend and I have never missed IM WI – but this year, it is time for a change.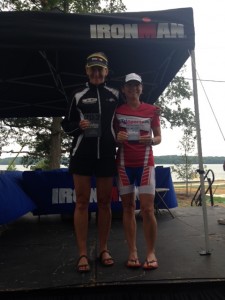 Here is Ali Rutledge and I getting our awards.
Great times in Muncie and a hard reminder on NEVER EVER give up because you just NEVER know.

Thanks Lululemon and PowerBar for the support!