This past weekend at the ITU Triathlon World Championships in Chicago. Just like at Nationals in August, I raced both the Sprint and Olympic Distances at Worlds too. The only difference was that the Sprint was first on Thursday and the Olympic was ~ 48 hours later on Saturday. I was really interested to see how that would feel and go for me. I had never pulled that combination off before. At Nationals I did the Olympic on Saturday and gutted through the Sprint on Sunday. I was worried doing it the opposite order would be even more challenging.
Ironically, I felt like a million bucks for my Olympic Race and had one of those days were I just felt great all around. It was about 100% different than I felt for the Sprint 2 days prior where I was super tired. My goal was to go Top 10 at both, but I also knew that would be an aggressive goal, with how stacked USAT Nationals was last year with everyone wanting to race in the USA for Worlds.
I ended up 8th in the Sprint and 7th in the Olympic. I had very specific goals for the races and paces I knew I had to hit in order to be in the mix. I knew I had to have a better swim than at Nationals in the Olympic. At Nationals I had a sub par swim for me and came out of the water in 9th. I vowed that would never happen again, so I killed myself in the Sprint and OLY races in the cold, choppy Lake Michigan (loved it) and came out of the water in ~5th in both races – Mission accomplished. I was breathing HARD and took off like a rocket and had full blown clean water for both races.
Coming out of the water in the Top 5 sets you up nicely at Worlds and I knew the movement would be minimal in the Top 10. At Worlds it is not like anyone will really out bike or out run anyone by 2-3+ minutes up in the top 10 – so the swim matters – big time. In my opinion at this short course World level, it is all about the swim – as long as you are a strong rider and runner you can hold your position.
I also knew I had to run a 42 minute 10k or faster to be in the Top 10 or about 6:40s pace. Chicago is flat and that suits me well. Choppy water – cold and windy. Honestly, the conditions were everything I dream about. I knew this and made sure I capitalized on my strengths.
I ended up running a 42 min 10k and not one girl passed me on the run. I held my spot and held tough. The course was long at 6.7-6.9 miles, so our 10k times are long, but I was okay with that as I was running well and enjoying the moment.
2015 ends my 40-44 age group racing. I age up to 45 in January. I am excited to age up and be the youngest again in the age group. Racing at 44 is very different than 40. And, remaining fast after 40 is a major balancing act of many, many things. I thought I would talk about racing fast after 40 – way more interesting than another full blown race report.
Racing "Fast" after 40:
The SLIDE:
Since I have been racing Triathlon since my early 20s, I don't PR anymore. I may PR my Ironman (just did that at 41) but I will not getting any bests in my run races or shorter triathlons and honestly, I don't even think about times anymore. For example, last time I raced at Worlds was 2008 Vancouver. I was 9th there but ran a 39:xx 10k at the age of 37. Now, at the age of 44, I ran a 42 minute 10k on an easier course. A 2003 study by Stephen Baird stated: Ten-kilometer race performance decreased at a rate of about 0.5% per year, or a tad under two seconds per mile per year after the age of 40. I do not go into any race saying, "I need to PR." I just try to manage the slide. I go to race the competition. I can feel the times decreasing a bit, but I am realistic and focus on other goals when I race. (Of course there are 40+ athletes that still PR, they just are late comers to the sport).
Specificity and Focus:
I don't pretend I can do all distances well in the same season. Some athletes can, but I don't enjoy the mix at all. I like the focus and specificity of training for short course OR long course and keeping things focused and specific. One of the major differences in my 40s versus 20s and 30s is my family and work life. When you are in your 40s, you are at the height of your careers and (usually) have kids in middle school and high school. The weekend and night commitments are plentiful and the time shifts from the little kids and toddlers to hanging on to every last few seconds we have the kids at home. So, I do not mess around. My motto for this year in training was, "Just enough." I was going to do "just enough" to meet my goals. That doesn't mean the bare minimum, it just means I was going to keep it all in perspective. I did not want to miss much with my kids. I just don't spread myself too thin. Trust me, I am on the edge many days and weeks – but now I realize when I am and I yank things back. Last week I drove to Cross Country workouts instead of walking over with the kids – I did everything to stay off my legs to ensure I was fresh for Worlds.
Speed/Running:
As I have been aging through my 40s, I have noticed that my tolerance to speed training has diminished – this is really more applicable to running right now than swimming and cycling, where I don't feel quite that tolerance waning yet. I work hard to defend my speed but not too hard that I mess something up. This season there were a few workouts where I was on the line and even over that line. I was on the track – forgetting I was 44 and running like I was 30. I have a love affair with the track and I can still get around the track almost as quickly as 10 years ago, but the difference is I will pay for it for days. Another area of major change for me in running is my stride length. In your 40s, your stride rate has nearly decreased by 40%! I spend a ton of time working on my turnover, snap and rebound. One of the first things I noticed was that I did not have the snap as I once did → That recoil and bounce. Now, I do a ton of my longer runs on crushed limestone. I mix up the terrains and keep my body adapting and different terrains, but in my 40s, the softer surfaces really help me recover better. The running is the biggest change in my 40s. My easy runs used to be 7:00 min miles – 10-15 years ago – now that is considered a tempo pace for me and very far from "easy" for me.
Technology:
This will probably not apply to a ton of 40+ athletes, but for me, it is a game changer. I do not train with a Garmin or pace on my watch. I just cannot. I know what it is like to run X pace, so there is no issues with effort. However, I think it is an athlete's kiss of death when they age to spend too much time worrying that their warm up pace is now an 8:00-9 min mile and Masters athletes can get into a horrible cycle of over-pushing the effort or pace because they are not content with their paces. I cannot tell you how many days (early mornings especially) where I start out and I bet you I am barely running a 9 minute mile. I cannot warm up quickly and it just takes longer. I hate the watch screaming 9:00 min miles to me – so I just keep it simple. Easy for me these days is definitely 8-9 min miles. Hard is hard and I do not need a watch to tell me how to suffer. I do; however, use power on the bike, because that is a little easier to manage and my watts have decreased over the years, but not as dramatically. But, I do not live and die with it – Ironically, it did not work for my Oly on Saturday at Worlds.
Sleep Quality/Hormones:
One of the major changes now is my sleep quality. As you move through your 40s as a female your hormones are changing and your body is adapting to reduced levels of various hormones. I have found that my PMS is horribly worse. My bad hormone days are worse than ever. I have an APP on my phone called "Period Tracker" and I can manage all my symptoms on it. Physically & mentally it keeps me on target with my bad days, nights I will have a hard time sleeping and when I will have my most horrible fatigue days (and I am prepared for that in my workouts). I am still like clockwork – so I am able to manage these hormone symptoms, but as I creep into my mid 40s and late 40s, I know this will change and it is something that is worth keeping a careful eye on. With the hormone changes comes a reduced sleep quality. I just do not sleep as well as I once did. I really like to sleep and prefer 7-9 hours and I usually get it. But, hormones make some nights really tough and as I get older, I just get more sensitive to noise and I am a huge worrier – so my worry keeps me up some nights (teenagers and building a house will do that).
Nutrition:
Seems to be a hot button in our sport, but something I don't tend to over-think. I have always eaten everything. I eat meat, carbs, you name it, I eat it (except fried food). Back in the day, I would restrict chocolate and M&Ms and things I absolutely love. At the time, it was worth it. But, at 44 – I do not care that much to give up things I love. This is a lifestyle for me and if I gave up my favorite things every year, well, then my entire life is not eating what I love? No, thanks. When I race short course, weight does matter. I know what weight I need to be in order to run well and not get sick or do anything stupid. Every year I am able to get to this weight that I like by just moving a bit more in my daily life – Not training more or eating way less….just summertime things like mowing the grass, walking to places, coaching Cross Country, etc. Also, I eat for fuel. I do not binge or starve myself. I am super consistent year after year and my body knows what is coming and it is the same every year. The key to my consistent weight – even at age 44, when it just does not want to move as easily – is consistency. I have never ever done a cleanse. I have never tried a fad diet. I eat food for fuel and recovery. Plain and simple. Don't over-think food. Have some chocolate, beer, whatever your vice is and it will prevent major peaks and valleys in your diet, weight and personality.
Recovery:
I cannot write about being racing fast after 40 without talking about Recovery. I think what is so key here is to make sure you are working with someone that understands this. The biggest kiss of death I see with Masters athletes who are doing group programs/workouts with the focus on the fast 30 year old single male. Make sure you are following a training plan that is specific for you as a Masters athlete. The key difference here I find is I need more recovery at the tippy top end of training. I can still do all the hard workouts but I need more recovery time in between the intervals OR days. I rarely do hard days back to back. For Ironman I do, but that is different training than short course prep. If I run the track on Tuesday, I am not doing a bike TT on Wednesday. Could I do that? Oh sure….but then I build a hole that is hard to climb out of. And, my goal is repeatability and consistency day to day.
Experience:
One of the best things about aging is experience. I have this calm about me now. I can flip the "switch" and be "ON" and race on a dime now. I am still just as hungry as I was 20 years ago to race and meet my goals, but now I have a ton more confidence. I understand what I need to do in every race. There are no more surprises. If they cancel the swim? No biggie, roll with it. 30 mph winds? Bring it on. Starting in the last wave of 2000+ athletes? Okay, whatever. I have this utter calmness about me now. I have raced over 200 triathlons and am able to keep each race in perspective. I know what races need me to be plugged in and 100% rested for. I know what works regarding my nutrition. I do not eat anything ever on my bike or runs that I would not train on (long course sometimes, yes, but not short course). I eat my pre-race breakfast before every workout I do when I can. If I get up at 5am to run, I always eat race food (just small portions) and I never just get up and go. I also tend to not over-think anything. I never go into a Triathlon saying, "I need to go 2:15 to be in the top 10." Deep down inside, trust me, I know what I need to do, but anything can happen. I just stay as connected to the girls up front as I can and the times will take care of itself. If I swim a 20 min 1.5 k or 22 minutes – does it matter if I come out in the top 1-5? Absolutely not. This saves me and keeps me fresh year after year. If I over-thought all of that and worried that I swam "slow" or whatever, it is really just a matter of perspective. What you need to focus on is where did you finish or swim compared to the girls/guys in the AG? That is the reality of racing and keeping it real. Because, as you get older, these times will slide & you cannot fight that slide, it is too exhausting.
Strength and Flexibility:
It goes without saying that this is critical. Every Monday I go to Pilates. I have been doing that for a couple of years consistently now. I need it. I tend not to do a good job of stretching well myself. This is critical in staying injury free. I also get a massage as much as I can. One of the hot areas of aging athletes are lower legs: Achilles, calves…many Masters athletes have issues with these areas because, as we age, these tendons and ligaments just do not recover and have as much elasticity as before and when we push and push, these areas of our bodies take the most stress. Another area that I noticed is the groin and adductor/Hip area. Same theory here, putting the same stress on these areas year after year but these areas getting weaker as we age. If you don't do the preventative care as a Masters athlete then you are just inches away from an injury. These areas have grown increasingly tight on me and unless I strengthen and work on these areas they get progressively worse.
Statistical analysis has shown that much of the decrease in race performance with age can be explained by decreases in oxygen uptake, upper and lower body strength, flexibility, and muscular (explosive) power. At 44, almost 45, I am the athlete in front of the freight train running as hard as I can to outrun being hit from behind.
Thank yous:
Time for some R&R now! As I wrap up my 2015 season I want to thank:
Elizabeth – we have worked together in various capacities for ~14 years. Thanks for all you do to help me stay competitive and healthy every year – We make a great team!  I am grateful for our coaching relationship and most importantly our friendship.
Jerome – I love you. You are the best partner for me and thanks for supporting me for all these years.  Even when I know you enjoy beer more than your bike now.
Chris V and Element – I love my Pink TREK and your support this season has been nothing short of amazing.
Dave Walters – I would never be the athlete I am now without you. You are an amazing coach, friend and mentor.
PSIMET – Thanks Rob & Leah for the awesome race wheels and support of the Triathlete in your "real riders" group.  Hopefully I have not embarrassed you too much yet.
Ian and Roka – Best wetsuit I have ever worn. Thanks for all your support.
Nathalie Banfield – BEST Massage therapist ever.
416 Pilates and Meghan – Thank you! 😉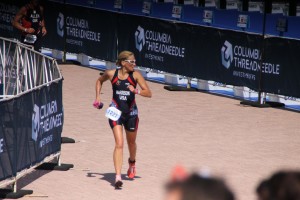 Making sure no one out-sprinted me in the finishing chute at Worlds!